Love is in the air: how romantic can a random flight be?

It was flight VA 150, Melbourne to Auckland. Most people think it is extremely romantic to meet your Nomad Soulmate on a plane, for us, well… You be the judge.

Kyron:
We were 2 hours into the flight before I even talked to her. I was returning to New Zealand from Bali and I did not get much sleep on my layover. I spent most of the flight with my iPod on, trying to sleep, then came that unfortunate call… Please turn off your electronics. With nothing else to do to occupy my time I joined the conversation of the people sitting next to me, not realising that one of them would end up being my girlfriend less than 6 months later.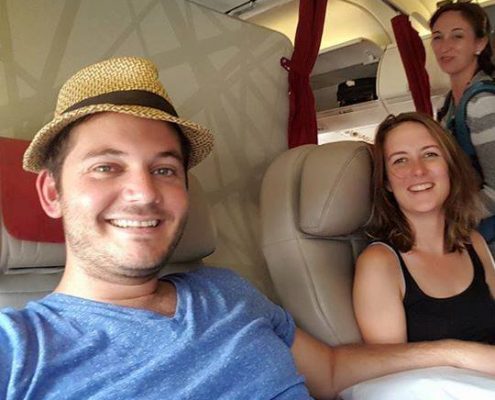 Merlijn:
The line for foreigners entering NZ was very long, suddenly the guy who had butted into my conversation earlier was gesturing for me to follow him and he proceeded to take me through the much faster New Zealanders only line. As we exited the airport, we added each other on Facebook and a promise to catch up for New Years Eve, I gave him an "awkward backpacker hug" and then we parted ways.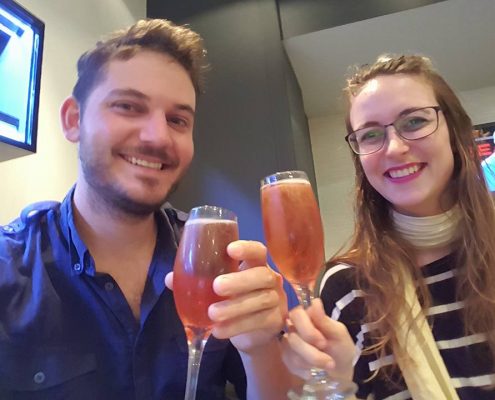 Kyron:
She was an awesome chick, our 5 days of hanging out over New Years, turned into a full 2 weeks, by which time it was time for her to return The Netherlands as her boyfriend's birthday was coming up. We said our farewells, thinking we would probably never meet again.
Merlijn:
You know that feeling of coming home and feeling all the warm fuzzies of reentering familiar surroundings? Well not this time. When I returned home after 6 months, my boyfriend dumped me, grey skies greeted me and my bike was stolen. Welcome home.
Kyron:
I felt sorry for her, and I missed her. "What are you doing for the next 2 weeks" I asked
"Nothing" she replied, and 48 hours later I met her at Bangkok airport where we travelled Thailand together, and so what was just a friendship started to become something more. A few months later, she returned to NZ to visit me.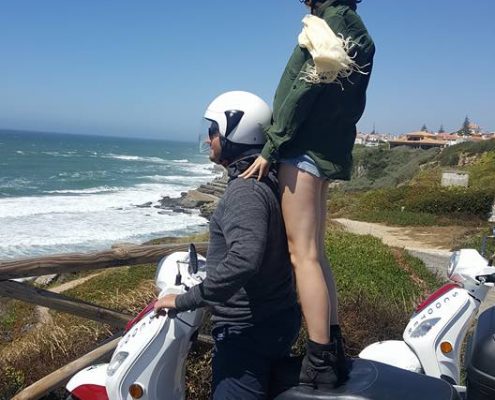 Merlijn:
Back in The Netherlands everything was going well, but I really wasn't looking for anything serious. However feeling lonely, one night I jokingly sent a message: "I kinda miss you, do you want to come build a blanket fort and eat chocolate cake in it?" At 2 am that night I awoke to his reply:
"Meet me at Amsterdam airport in 40 hours".
Sure enough 40 hours later he arrived, a day later he had built me a blanket fort and bought some chocolate cake, and 5 days later his whirlwind visit was over and he was back on a plane to New Zealand.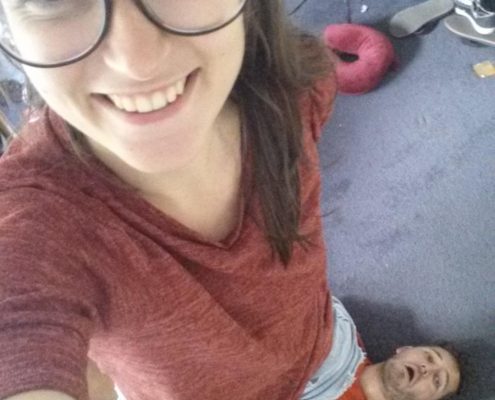 Kyron:
A few months later I was 'informed' that she had run out of other words to call me and was now referring to me as her boyfriend. Success. I instantly moved to the Netherlands to be with her./ I set up my own online business, whilst she finished her degree.
Merlijn:
Life with Kyron is many things, but never boring. One day he showed me an ad on Facebook about travelling the world with a big group of like minded people, moving to new cities every month for an entire year. "Would you want to do that?" he asked. As I said "yes", he grinned. "Good, because I've already applied".
After 5 months and 3 continents, we realized that the group travel thing really wasn't for us, it felt constrained and artificial. We talked with others who had left the group about how they would like to travel the world. We agreed that the ability to choose where you wanted to go and how long you stayed was the most important thing, and if we could have a place we could go where we could tap into the community as much or as little as we wanted then that would be brilliant. So leveraging off Kyrons background in Real Estate Investing, we started FreedomCo with the vision of setting up co-living, co-working spaces around the world for digital nomads and entrepreneurs to live together, and even be able to buy into and co-own some of those properties.
In early 2017 we opened our first property, Rivendell in Canggu, Bali and created a plan to roll out 10 properties across 10 countries throughout the year. We are nearing 2 years of being together and every day brings something new – a new challenge, a new country or a new discovery, and every day we celebrate the fact that Virgin Australia asked us to turn off our electronics for landing.
About Kyron & Merlijn
Kyron & Merlijn run FreedomCo properties, a place for location free entrepreneurs to co-live and co-work together in serviced boutique properties and amazing locations. Their mission is to help people outside the system to find a place to call home, therefore every night guests stay in a FreedomCo property, they donate one night's accommodation for homeless people around the world.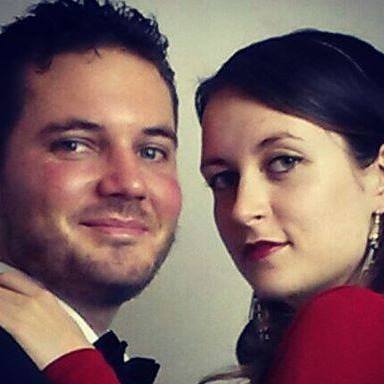 Are you spending a lot of time by yourself? Wouldn't it be nice to find your like-minded partner to share your adventures with?
Learn how you can make meaningful connections as a digital nomad and join 20 digital nomads for a winter retreat in the mountains in Bansko (Bulgaria).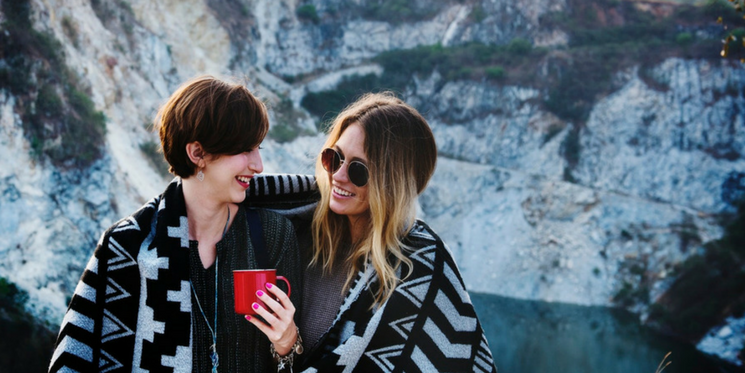 Meet 9557 Nomads for online dating at our Facebook Group
We are running a Free Closed Facebook Group for single location independent people who would like to make better, more meaningful connections with other like-minded people around the world.  Join and meet up for adventurous activities! Who knows, maybe you are bumping into your Soulmate?!
https://blog.nomadsoulmates.com/wp-content/uploads/2017/04/love-is-in-the-air-www.nomadsoulmates.com_.png
500
1200
Aline
https://blog.nomadsoulmates.com/wp-content/uploads/2021/02/Nomad-Soulmates-Logo-small.png
Aline
2017-04-01 09:29:20
2018-05-18 12:38:42
Love is in the air: how romantic can a random flight be?